Cold Store Cleaning Service
Having your cold storage cleaned utilising the ChillClean® system is unique. Our expertise ensures that the floors, doors, walls, fans and fins are all decontaminated effectively using best practice methods. A fully functioning cold storage system is vital to maintain temperature and ensure that this cold storage room is free of mould and biological contaminants so that food is stored correctly. When the cold storage facilities are operating at their optimum levels there is less load placed on the compressors, extending their life and using less energy.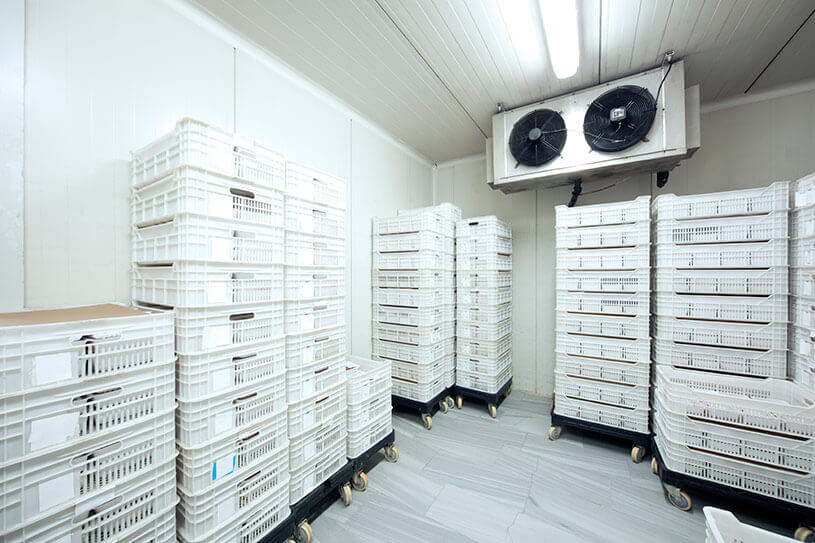 Our program is designed to enhance existing maintenance programs, by demonstrating simple techniques to ensure that you are employing best practices and to ultimately save energy. Energy savings, of course, translates to dollar savings and a cleaner working environment. With many companies now focusing on reducing their carbon footprint, we believe our product and service will help achieve this objective.
Benefits of a ChillClean Clean
Increase energy savings of 10% or more

Reduced cleaning / maintenance costs

Prevents coil corrosion

Increased air flow

No heat transfer interference

Increased cooling capacity

100% bio-degradable

Removes mould
The table below shows the improvement of the cold storage chiller system after a ChillClean clean.
| | Before Clean | After Clean | Diff% |
| --- | --- | --- | --- |
| Temperature C˚ | 4.3 | 3.2 | 34.3 |
| Right Fan (m/s) | 20.8 | 24.3 | 16.8 |
| Middle Fan (m/s) | 24.4 | 27.6 | 13.1 |
| Left Fan (m/s) | 22.8 | 26.3 | 15.3 |


In between our cleaning program, ChillClean™ can provide a superior eco-hygiene solution that continuously works to save you money and ensure your cool room is kept at the optimum operating conditions. Our exclusive MoistureGuard™, FreezerGuard™ and Award-Winning ChillSafe® range of products have been scientifically proven to:
Reduce bacteria

Reduce ethylene

Prevents coil corrosion

Reduce ice build up

Reduce odours

Reduce moulds & yeasts

Reduce food waste

Reduce power costs

Reduce cleaning costs

Reduce OH&S risks

Reduce compressor maintenance